Orbital Shaking Incubators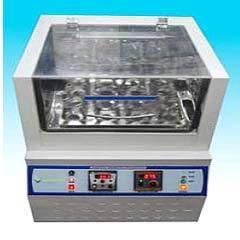 We offer Orbital shaking incubators that are designed as per the I.S. Standards for orbital or reciprocating shaking motion application in the various fields such as medical, agricultural, industrial, research laboratories, hospitals.

Features
• Double Walled Inner SS/Outer MS
• Temperature Range: 10?C to 60?C0.
• Controlled by preset dual display electronic digital temperature controller cum indicator
• RPM Range: 50 to 250 RPM Orbital (25 cms)
• Variable Speed Controlled by Digital Display RPM Controller cum Indicator (Permanent Management DC Motor)
• Complete with St. Steel Tray with lotus shaped spring action clamps but without conical flasks.
| | |
| --- | --- |
| Models | Capacity in Ltr. |
| BTI 8a | 9 x 250 ml |
| BTI -8b | 16 x 250 ml |
| BTI -8c | 20 x 250 ml |
| BTI -8d | 36 x 250 ml |
| BTI -8e | 9 x 500 ml |
| BTI -8f | 16 x 500 ml |
| BTI -8g | 20 x 500 ml |
| BTI -8h | 36 x 500 ml |